NURSERY
Phase One Phonics
Now that the children have settled into school life and are getting to know their learning environment well, we have begun to introduce Phase One phonics. For Nursery, this covers developing a while range of skills that will prepare the children for reading. At this early stage in the year, the children will be focusing on developing their listening skills to identify different sounds including those in our environment, instrumental sounds and body percussion.
We have begun by thinking about what good listening looks like, matching the sounds of different instruments and going on a listening walk. The children loved making their enormous ears ready for fantastic listening and identifying different sounds, where they were coming from and trying to recreate these sounds with their voices.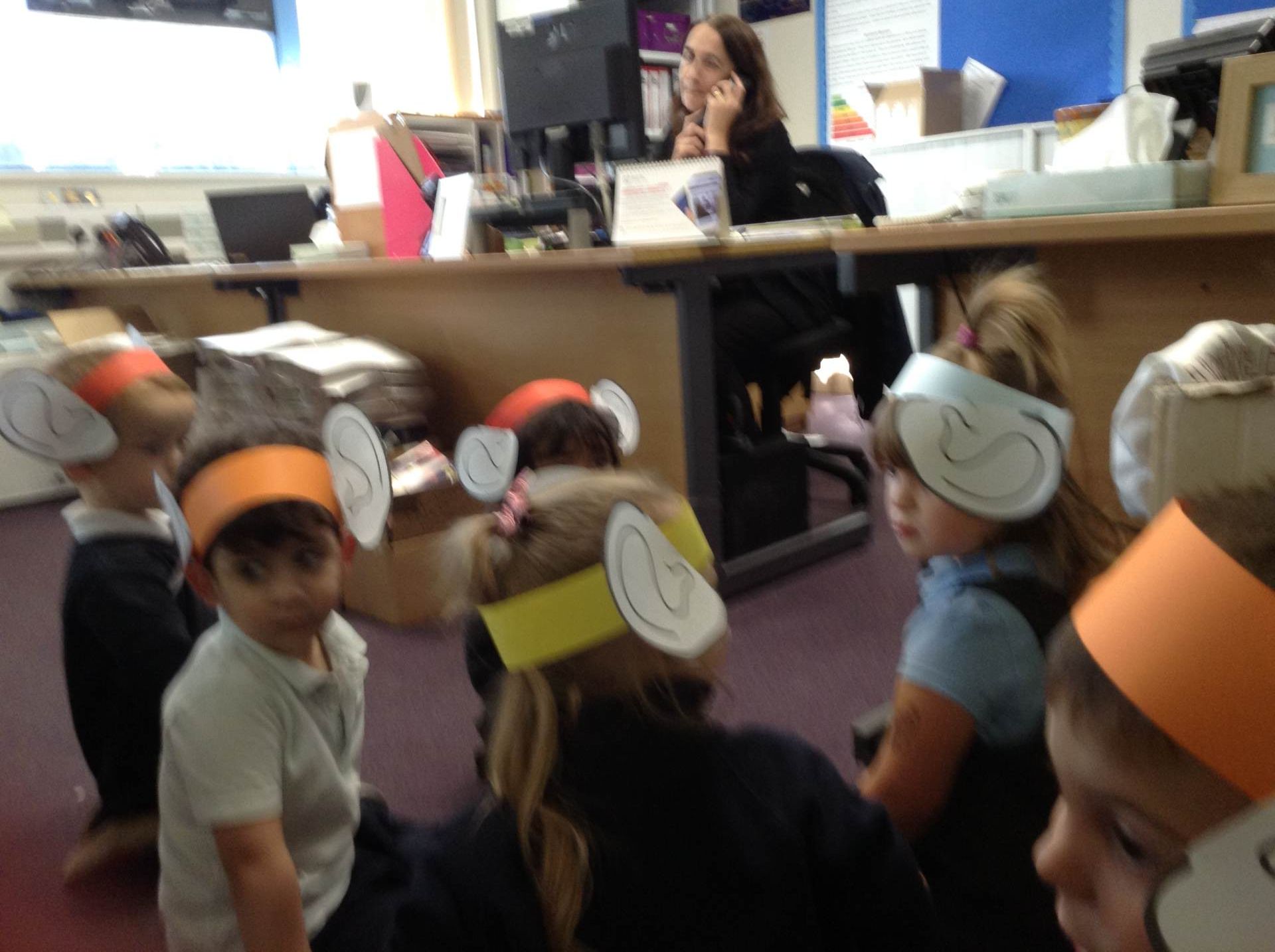 Learning about our school
In Nursery, we have been talking about our three school rules- Ready, Respectful and Safe. We have talked about what these mean and what it looks like in our classroom.
The children have suggested their own ideas about how we can do this and this is what they said:
-Walking feet inside so that we don't slip.
-Quiet voices so that we can all hear each other
-Kind hands and kind feet
-Listening ears, looking eyes and comfy sitting
-Wear aprons in the water and when painting
-Clean up and mess on the floor (sand, water, toys)
-Put rubbish in the bin
We have also been working on our tidy up rhyme, "You choose it, you use it, you put it away". The children have been working very hard on this and it is something that we want to continue focusing on therefore if YOU at home can support us with this it will support the children in creating good habbits. When they have chosen what to play with and have finished using it then we encourage them to put this away before they choose something else. This should help keep our environment clean, tidy and safe and yours at home too!
Settling in weeks
Our first few weeks in Nursery have consisted of the adults and children getting to know each other, the children becoming familiar with the daily routines and the classroom environment and also the children getting to know themselves- their likes and interests.
They have been developing some of their most important skills including: self confidence and awareness, making relationships and managing feelings and behaviour. These are supporting the children in settling in and are allowing them to begin their learning.
Both the adults and the children have created chatterboxes to share in small groups. This will help everyone build strong relationships and make links between friends. The children thoroughly enjoyed talking about themselves and sharing the things that they had collected over the summer.
Home Visits 2019-2020
This year, our Nursery staff went out to visit each and every one of our new children joining us at Nursery. This enabled the staff to not only get to know the children before they enter the setting but also build relationships with their families too.
From the home visits, we learnt so much about our new children and it was very exciting getting to see their favourite things and hearing about their summer holidays. We shared lots of information about what a morning or an afternoon in Nursery might look like and answered lots of questions from parents.
We are so excited to welcome all of our new and some returning families into Nursery and into the school and can't wait for the term to begin!
BECOMING A READER
We want every child to develop a love of stories and books and so provide a wide range of books in our classroom. We have dedicated, comfortable reading spaces as well as integrating books into many different areas of provision. Stories are shared with children on a daily basis. We ensure that the children are introduced to some key stories such as The Three Little Pigs, during their nursery year and we use small world resources, puppets and role play to explore these stories fully.
Every child takes home a story book to share and enjoy with their family from the beginning of the year.
In order for them to be ready for the introduction of phonics in Reception we build strong foundations using the Letters and Sounds Phase 1 phonics activities. These enable children to be able to tune into and hear sounds, to rhyme and use alliteration (words with the same initial sound such as Cuddly Cat) and so on.
Click here to see Letters and Sounds Phonics.
BECOMING A WRITER
Writing is a complex skill that takes several years to master and refine. It is vital that children develop all the large muscles in their body through crawling, climbing, jumping, balancing, sliding, running etc and so we provide many opportunities for them to develop their physical strength and stamina.
They also need to develop good hand-eye coordination, a pincer grip and other fine motor skills and so in school they will have many opportunities to
use scissors

use tools for woodwork

use a wide range of mark making resources - pens, pencils, paintbrushes, felt tips, chalks etc.

use construction kits such as Lego and Knex

play regularly with playdough, mud and clay

manipulate cutlery and cooking utensils
We introduce story scribing to model and scaffold their writing and they have the opportunity to re-enact their stories with their friends. (see this short article which describes this method https://www.teachearlyyears.com/learning-and-development/view/reception-story-scribing)
They begin to recognise their names and we encourage them to have a go at writing them if they are ready to.
We encourage all sorts of mark making including scribbling, dabbing and doodles as these all help to build confidence in making marks and the fine motor skills to do so.