Year 5 History
Remembrance Day
For Remembrance Day this week in Year 5, the children sketched poppies from observation before adding colour using pastels. While doing this, we spoke about what Remembrance Day is and why we celebrate it, as well as thinking about why we wear poppies and what they represent. We also listened to some of the music sent by Mrs Winkworth as part of our Welcome Music at the beginning of the day.
World War II
As part of their work on World War 2, children in 5M explored the language and features of poems based around the theme of war. After watching a small animation about the Dday landings, they composed a class poem, based on what they experienced. Each child contributed one line to the poem, which may have been split over several lines for effect: People will never forget In the damp and tightly packed warships, Soldiers are nervous and worried. Petrified as small children. As soon as the ramp opens, it's time for WAR! Sound of ferocious gunshots. Bang! Bang! Pow! Pow! Body-ridden beaches, streaked with flying bullets As soon as I stepped over the barbed wire… Dangerous metal gunshots flying everywhere Ferocious gunshots shooting from side to side Hot sharp bullets Killing people Killing the French soldiers Dangerous guns Killing too many people Ash and smoke rising from the ground Lost soldiers Metal bullets left and right All the people are in fright Smell smoke here Smell smoke there Smell smoke everywhere. Terrified soldiers dodging bullets, Slipping on damp sand. Shooting enemies Team-mates dying Brave friends WAR is on. Bombs exploding day and night Bombs raining in the night As children cry in fright. You can see gunpowder Dangerous.. Gun shots going everywhere Damaging people inside and out. Heartbroken soldiers, dark and black. People were heartbroken People were sad People were terrified People were mad …People were dead. Miserable loss and sorrow Broken hearts, bravery too. The loss of lives in France People will never forget!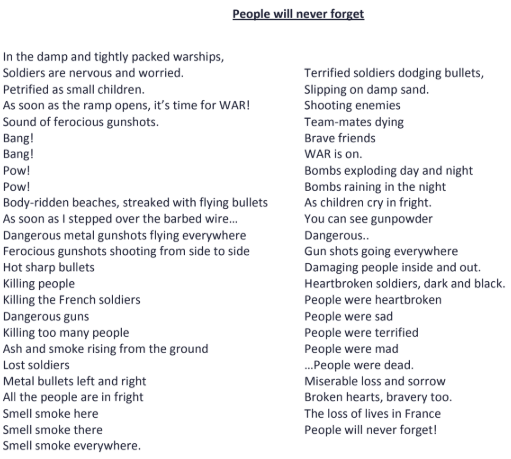 Who's in the box!
This week 5L were posed the question 'Why is it so difficult to be sure what evacuation was really like? We looked at the boxes of 3 evacuees and tried to work out what their backgrounds and home life were like and tried to predict what kind of experience they might have when they were billeted. As true historians, we also looked at a range of primary, first hand sources of evidence to help us in the form of real-life experiences from World War 2 evacuees. We rated their experience from -3 to 3. We are going to use all the information we have gleaned to write a balanced argument 'Should children be evacuated?' Keep visiting our class page as we'll post them as soon as they are hot off the press!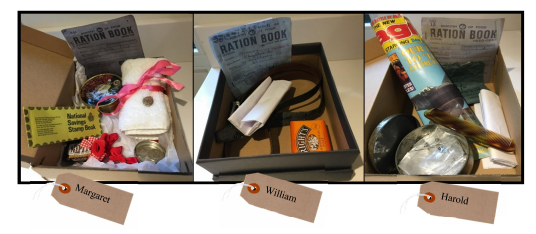 Year 5 World War 2
In our World War 2 topic, Year 5 have been looking at whether children should have been evacuated or not. First, we were given different roles in the community and took turns to write our ideas and reasons about what we thought those people might have thought! Next, we shared and compiled all our different FOR and AGAINST arguments. Then we were split into two sides and had to choose our
best argument to support that side! After that 5L invited Winston Churchill to our Conscience Alley to see what he would ultimately decide.