English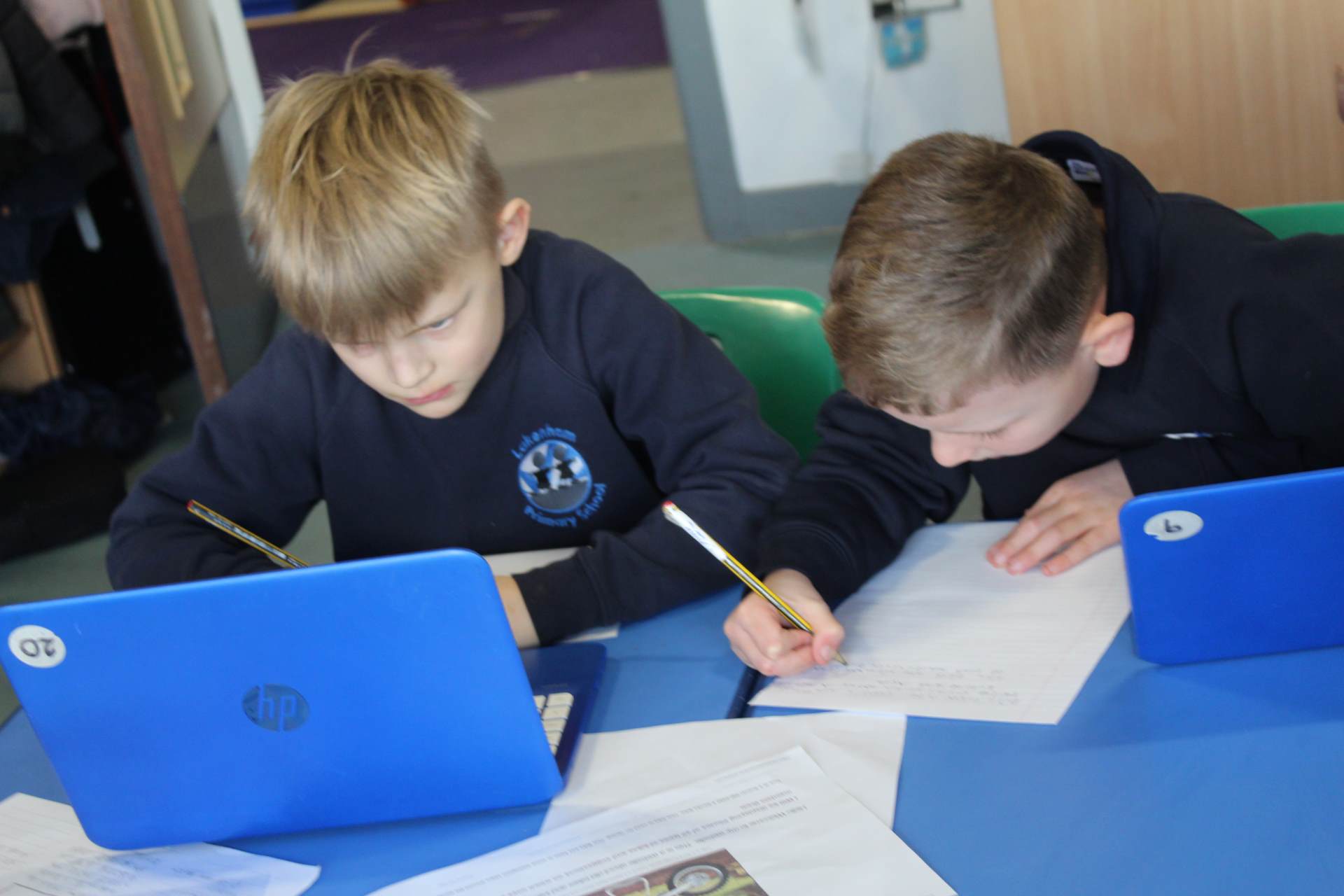 Phonics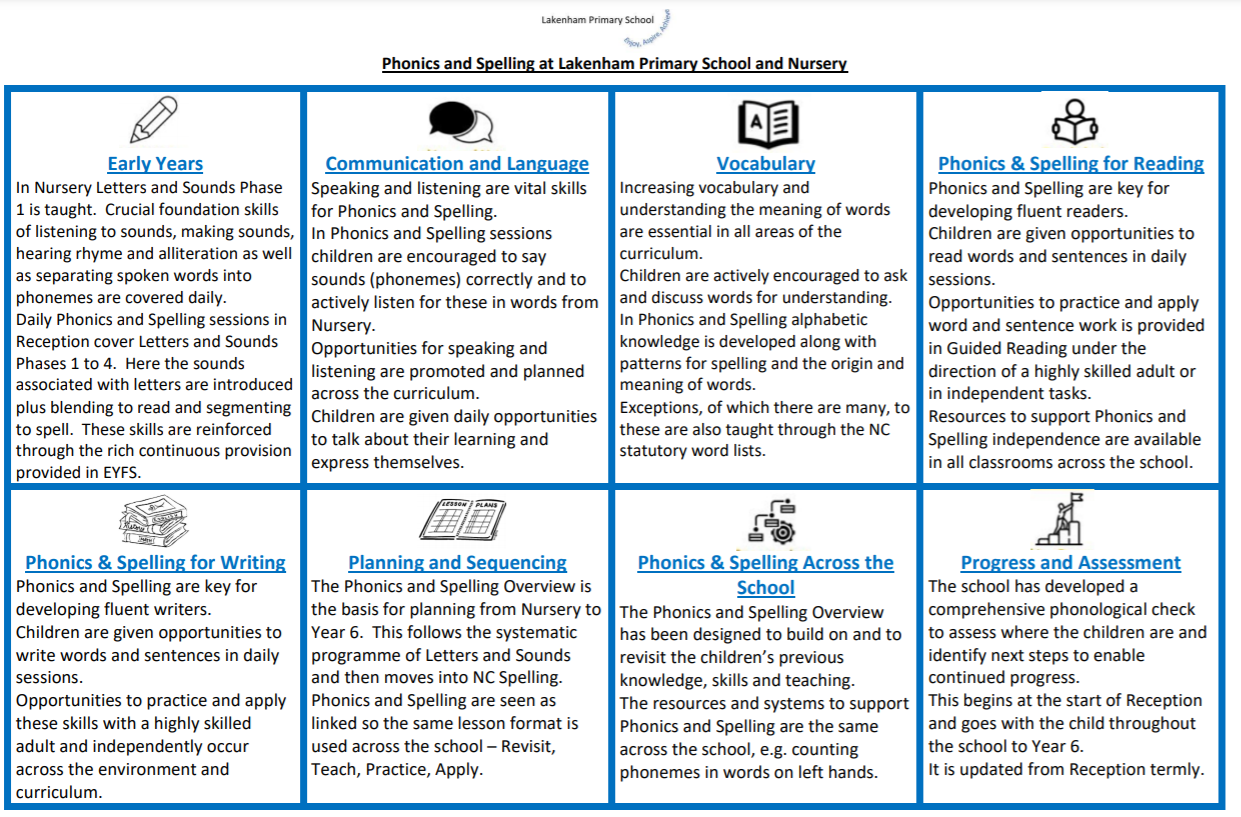 Phonics is an essential skills to help children to learn to read and write.
When children start at school, we have a structured system to ensure that home and school work together to develop phonic understanding. We know that as soon as children are able to crack the basics of reading, then reading books becomes enjoyable, which is what we all want. This system links into the teaching of spelling to help with writing.

A clear systematic programme helps staff deliver a consistent and progressive phonics development. The whole school approach follows the Letters and Sounds Phases; and uses a visual, auditory and kinaesthetic approach by using rhyme, song and movement to reinforce the sound and words that are being taught.
Sound mat and supporting actions:
Phonics Progression - Following Letters and Sounds Phases
Nursery
In Nursery, children are taught Phase 1 of Letters and Sounds, which focuses on developing children's speaking and listening skills.
There are 7 aspects of Phase 1, these are:
Phase 1:
Aspect 1) Environmental sounds - raising children's awareness to the sounds around them in their environment, and to develop their listening skills.
Aspect 2) Instrumental sounds - to develop children's awareness of sounds made by different instruments.
Aspect 3) Body percussion - to develop children's awareness of sounds and rhythms.
Aspect 4) Rhythm & rhyme - to develop children's appreciation and experiences of rhythm and rhyme.
Aspect 5) Alliteration - focusing on the initial sounds of words.
Aspect 6) Voice sounds - to distinguish between different vocal sounds and to begin oral blending and segmenting.
Aspect 7) Oral blending and segmenting - to practise and develop oral blending and segmenting skills.
Reception
Reception will begin the year focusing on developing Phase 1 skills in the first half term. Then the children are taught Phase 2 & 3 phonemes from Letters and Sounds.
Phase 2 Phonemes:
Set 1 - s, a, t, p
Set 2 - i, n, m, d
Set 3 - g, o, c, k
Set 4 - ck, e, u, r
Set 5 - h, b, f, ff, l, ll, ss
Phase 3 Phonemes:
Set 6 - j, v, w, x
Set 7 - y, z, zz, qu
Consonant diagraphs - ch, sh, th, ng
Vowel diagraphs – ai, ee, ight, oa, oo, ar, or, ur, ow, oi, ear, air, ure, er
Year 1
In Year 1, children re-cap Phase 2 & 3 sounds that they are not yet confident with and then they are taught Phase 4 & 5 phonic skills and phonemes from Letter and Sounds.
Phase 4 Skills:
-Consolidation of 42 phonemes taugh.
- Blending phonemes to read CVC words and segment CVC words for spelling.
- Read two syllable words.
- Read tricky words learnt so far and will be able to spell some of them.
Phase 5 Phonemes:
ay, ou, ie, ea
oy, ir, ue, aw
why,ph, ew, oe, au
a-e, e-e, i-e, o-e, u-e
Towards the end of Year 1, the children take part in the National Year 1 Phonics Check.
Year 2
In Year 2, children re-cap any sounds that they are not yet confident with and then they are taught Phase 6 phonic skills and phonemes from Letter and Sounds.

Phase 6:
-Past and present tense.
-Suffixes
Spelling long words
-Application of spelling in writing
Key Stage 2 (Years 3-6)
Phonics continues in KS2. In Year 3, children recap any sounds the class is not confident with, as well as recapping Phase 6.
Once children are confident with their Phase sounds, children are taught phonics through spelling sessions.
Children who still need some additional phonics support will have discrete phonic sessions and practise during their group reading sessions.
Phonics Games
Silly Soup
For this game all you need are objects or pictures with the same sound (cat, bat, mat). Mix up in any old pot or pan while singing the song. As you add each item in, recall the sounds aloud.
Ball it bin it
For this game all you need is a bin, paper and pen. Practice tricky words on a piece of paper, scrunch it up and throw it in the bin when you are finished! You can check them afterwards, to know which spellings you will practice again next time.
I Spy
For this game look around, take turns to find items around the room with the right sound. (Looking for 'a', find 'cat')
Obb and Bob
For this game you just need a selection or real and alien words. If you know it is a real word give it to Bob, if it is an alien word pass it to Obb!
Phonics Assessment
All children are assessed each term, to identify any individual or class gaps. These are then used to inform future teacher planning hat need to be addressed.
Phonics assessments check children's ability to be able to recognise phonemes, segmenting and blending skills, tricky word knowledge, as well as rhyme and capital letters. Assessments are then passed on to the next teacher.
*For useful phonics website links please go to the 'Parents' tab and then select 'Helping your child at home'.
Reading
Reading in School
Reading has an extremely high status in the school and we seek to create fluent, discerning, life-long readers who love and value books.
Each year group has it's own progressive book spine, which contains:
* Class key texts - high quality texts that will be used to hook children into their writing genre.
* Additional supportive texts/media - texts that will be out in the learning environment and enquiry areas to develop children's depth of knowledge and understanding.
* Reading for pleasure/class book - progressive books, selected to give children an experience of a range of reading genres.
Group Reading
Each week, children are involved in group reading, where they discuss and learn how to accurately decode to read words and sentences and how to find out information from a text.
During group reading sessions, children will focus on certain reading and comprehension skills - Decode, Explain, Retrieve, Inference, Choice or as we call it DERIC.
Decode – reading words using phonic knowledge and skills.
Explain – explain what new words mean and develop vocabulary.
Retrieve – understand, retrieve and record information from texts.
Inference – draw inferences from texts, explain word meanings, predict information/events or ideas from the text, justifying with evidence.
Choice – explain and comment on the writers' choice of language, structure, presentation and the overall impact on the reader.
Group Reading Activities
Group reading activities are planned to teach and focus on DERIC reading skills. These activities may include:
* Adult led reading group
* Phonics game
* Spelling game
* Image
* Video
* Small world/role-play
* Vocabulary work
* Independent reading
* Tricky word work
Reading Assessment

Children's reading is assessed during daily group reading sessions. Adults use reading stage assessment sheets to monitor and record children's decoding and comprehension skills. These are then used to inform future teacher planning and to identify and class or individual gaps that need to be addressed.
School Library
We use a variety of approaches in the teaching of reading, including decoable books that are colour-banded according to reading level, to ensure children take home a suitable book.
The school also has two well stocked libraries; an infant library for the Early Years Foundation Stage and Key Stage 1 (Nursery-Year 2) and a Key Stage 2 library for children in Years 3 to 6.
The library is organised into fiction and non-fiction.
The non-fiction is organised by subject (e.g. art, music).
The fiction library is organised by genre (e.g. short stories, graphic novels, fantasy etc.).
All year groups have access to the library to use for research and reading for pleasure.
All children are given a library card that they use to scan out books to take home.
Reading at Home Expectations
We encourage children to enjoy books and take them home to share with you. They will bring home a reading and a reading record/home-learning diary, in which you can write any comments about the books you have shared.
Reading for Pleasure
World Book Day
Every year, the whole school celebrates World Book Day.
This day is specifically designed to promote a love for reading and inspire children to want to read. On this day, each year groups has additional planned reading opportunities and activities.
For this special day, children are encouraged to dress up to celebrate a favourite character from a book.
I wonder which character you would choose?

Writing
All writing sequences are planned to take 4-6 weeks, to ensure that writing is of a high quality and to ensure children are taught the range of skills needed for the specific writing genre, as well as giving them time to practice and apply these new skills.
During this writing sequence, experiences are given to children using small world objects, drama and real life experiences to ensure that they have a full understanding of the character, setting or emotion that they are to use. Learning opportunities are taken by going on educational visits, such as having Stone Age day where children experience what life was like.
We encourage children to have a go and then, with skillful teacher input and support, we work through the recognised stages of development to ensure written work, spelling, phonics, grammar and punctuation are developed gradually through children's writing. As they develop children are encouraged to see writing as a powerful means of self-expression and communication and to write for a range of purpose.
Writing Assessment
After the writing sequence, children's work is then marked and assessed against our whole school writing assessment stage criteria. This is then used to inform future teacher planning, as well as identify class and individual next steps.
Year Groups
Please click the buttons below to see what each year group has been up to in English.